BIPA in Bali
Bahasa Indonesia For Foreigners. A combination from culture, language with leisure.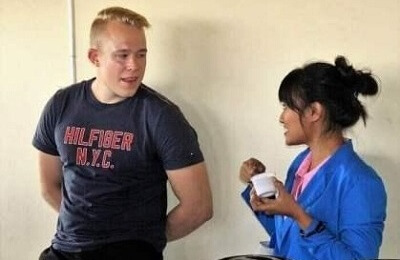 Knowledge of the Indonesian language is useful, lead to a better orientation and helping you to find better in the culture and quickly find your way in the daily life. If you not participate in the Study in Bali program and you are not yet speaking Bahasa Indonesia, then we strongly encourage you to enroll in the Bahasa Indonesia for foreigner Program (BIPA). This will give you a good base to build upon during your time in Indonesia and will enable you to communicate, which not speak English. It's a door opening experience and strongly recommendate!
If you want to become fluent in a language or truly immerse yourself into a culture, going abroad for a short time may not give you enough time to reach your goals. It might be necessary to give up a semester or even a year of extracurricular activities to get everything you want out of studying abroad. Studying abroad is unique experiences that give you valuable skills which can be used in careers and life in general.
The Bahasa Indonesia Program is aimed at helping you to learn Bahasa Indonesia while you stay in the archipelago. The objectives are to give you the experience of living and immersing on the cultures by being able to communicate communicatively with local people.
All language courses are tailored to your need. Hence, you can determine what topic you are interested to learn. However, there are some general steps that should be followed in order to increase your capability and fluency in using Indonesian language.
The program is open to everybody, from beginner over experienced to advance speaker to join especially Bahasa Indonesia Program for foreigner (BIPA). You have the opportunity to join as an intern or volunteer in a 1 week survival course or you have already some knowledge of the language and want take a 1 week up to 1 Semester Program, because your major is Culture or South-East-Asia Studies and it is a part of your degree.
You do not speak any Indonesian language
It is your first time that you come to Indonesia
You will take an internship or volunteer placement
You want increase your knowledge of the Indonesian language and cultural issues
You are studying and looking for academic program or credits
You are studying and looking for a gap year abroad
The program includes Indonesian language training and cultural lesson. The topics are:
Speaking and Listening
Writing and Reading
Pronunciation and Grammar
Social Issues in Indonesia and Bali
Religious Life in Indonesia and Bali
History of Indonesia and Bali
Culture of Indonesia and Bali
Education and Environment Issues in Indonesia
If you are a beginner, the course materials will start with the basic conversation. However, if you is a non-beginner, your Indonesian language competence will be checked and it will be decided the most appropriate materials. In the case where you have a specific requirement or enquiry in the course materials, the teacher will fit your need.
The program includes outdoor activities such as attending arts workshop (learning traditional dance/song, iklat weaving, gamelan, etc.) field trip and visiting cultural sites and places.
In workshop you can learn traditional dances, songs and musical instruments of Bali. In doing field trip, you will visit cultural sites, museums, health care center, government office, traditional market, and other institutions which are related to the topic given in the class.
The activity can be:
Campus tour
City tour by public transportation
Cooking class
Visiting school in Bali
Visiting public hospital and health care center
Visiting temple, church and mosque
Visiting museum
Visiting government institution
Visiting local market
Workshop
Bahasa Indonesia for non-native Speaker (BIPA) aim is to train foreigners to actively communicate in both written and spoken Bahasa Indonesia. In order to achieve this objective, BIPA provides three levels of study with individual curriculum and goals. Have a look on the Syllabus: - SYLLABUS-
To dive deep inside the Indonesian way of life and to get the original feeling and especially of the Balinese Culture, you can also stay with an Indonesian family (Homestay).
BIPA Summmary

Courses on all Level
One-to-one learning
Individual and Group class
Intensive learning
Individual length from 1 week up to 1 semester
Discount for participants, who join the next level
"Making friends in Bali and learning the language is so easy because the Indonesian want to share their culture."
---