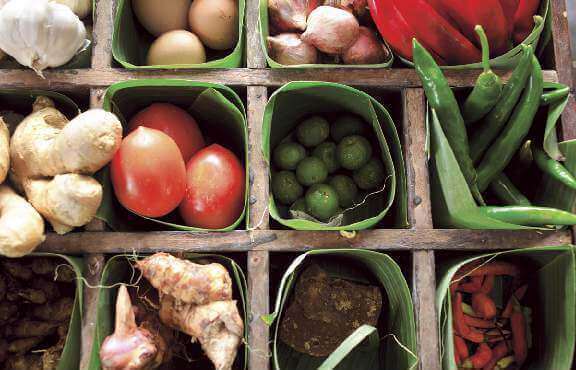 Balis Food Temple
The daily hot and spicy fest of freshness.
Study
Food
Fresh Food
Healthy Food
Indonesia hosts an array of culinary delights as well as many places that put a spin on popular cuisines. It will inspire your culinary experience because Indonesia is known as one of the most varied cuisine of the world. Many tasty offers reach from street snacks (Warung), restaurants and up to three stars cuisine.
The food variety in Bali is really rich. In tourist areas you will find sundry western-oriented restaurants. In Bali, you can have all culinary taste experiences. Balinese food is highly influenced by Indonesian and Chinese cuisine. There is nothing like a hearty meal and good converstion. Be it breakfast, brunch, a light mid-afternoon indulgence or a romantic candlelit dinner, Bali provide a menu of some of the best dishes and dinnng delights Indonesia has to offer.
Generally, the food is prepared with many spices. Fish, poultry, tropical vegetables, meat, spice sheets and odoriferous roots are used a lot. This combination makes the dishes special and delightful. Basically, the meal is served with rice. The rice is often served first and followed by other dishes, which are each served separately
In most parts of Asia, the meals are celebrated together as a highlight of the day! This gives the opportunity to get to know each other and gathering. As a matter of priority, this serves as an interaction that leads to maintaining and deepening of social relationships. Food in Bali, like in wide parts of Indonesia, can be served with sambal. It is prepared from chilli pods and other spices and has different level of spiciness!
Bali is infamous for its world-class cuisine, and its local delicacies have been delighting tourists and locals alike. Even with steady increase of stylish western restaurants popping up around town, you can always find fresh and delicious local fare at affordable prices. For those wary of Bali's more exotic culinary offerings, Indonesian cuisine in Bali can also please more sensitive pallets.
Babi Guling (whole roast sucking pig) literally translates to . Nasi Campur restaurant serve Javanese, Muslim style dishes, offered up in cases for your selection. Pile up your plate with Nasi, tempe, tofu, meats and vegetables. Masakan Padang, Pempek, Otak-Otak joints offer home cooked plates of Sumatran Style (skewer), local friend rice and Soto Ayam are like the islands culinary training wells. Stop at any street side stalls for the most authentic culinary.
Really not an issue in Bali. Just choose the area you want to eat in. Tuban, Kuta and Seminyak are full of restaurants, likewise another areas. Types: Chinese all over the place, Indian - mostly Kuta and Sanur, Italian in major tourist areas.
Fast food - the usual: Mc D, Burger K, KFC, Pizza Hut, Wendy's, Hagen Daas, Dunkin Donuts.
Food Summary

Healthy and Delicious
Western Food
Fast Food
Related
"I can say it is an amazing and unique experience for me to live and study in Bali. In my spare time, venturing out to eat is a joy in a Indonesian islands. It is really nice to get out and find Sate (BBQ sticks) in any time."