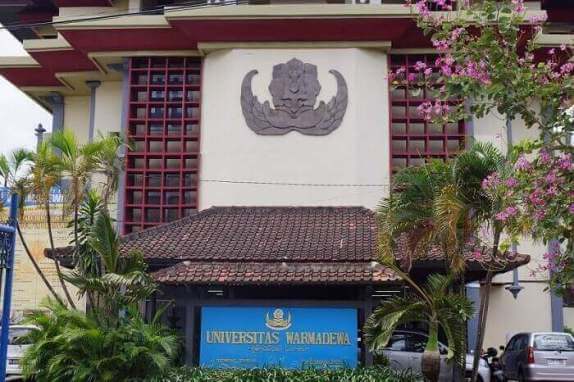 Warmadewa University
The university founded by Balinese as a social enterprise.
Study
University
Warmadewa
WIP
The University of Warmadewa (UNWAR) is a private university in Bali. The university was founded in 1984, with a foundation of the provincial government of Bali. The Universty of Warmadewa have a social background and operate as a non-profit organisation. The University of Warmadewa is close related with the state-running University of Udayana and the lecture teach on both universities.
The university and its campus are in Denpasar. The current registered students at the university are around 10.000. On and around the campuses are central facilities.
Faculty of Law
Faculty of Economic
Faculty of Philology
Faculty of Engineering
Faculty of Agriculture
Faculty of Medicine and Healthcare
Faculty of Social Science and Political Science
Study abroad in Bali during summer or winter in the Warmadewa International Program. The interdisciplinary program combine courses from language, culture, business, and sustainability.
The program is ideal for students who wish to have a deep view into Indonesian culture and society. Regardless of your study background, the program can provide you with an interesting complement to your major studies and open up new perspectives. The program is open for both international and local students.
The international program from the University Warmadewa offer an interdisciplinary study program taught in English. The WIP consist an undergraduate and post-graduate program with total 11 subjects.
The WIP is a full-time program and for all courses are granted in ECTS. You can choose between 3-7 courses with 16-36 ECTS.
Warmadewa International Program consists of the following 11 courses:
Bachelor

Indonesian Language, Culture, Tourism, Business, Law, Management, Politic and HRM

Master

Economy, Management and Entrepreneurship
On-campus facilities include a multi-functional court for basketball and football and a tennis court. You are encouraged to join local student activities such soccer, music gigs and sport compentitions. You can join student activities such as:
Balinese Culture
Theater, Dance, Drum and Marching Band
Scientific Reasoning
Football
Badminton and Table Tennis
Basketball and Volleyball
Kopma, Kempo and Mapala
Shield Defence and Tekwondo
All partipicate students will be asked to follow common rules.
Be always respectful, on and off the campus
Suppor a culture of diversity
Wearing proper close

long arm shirt, alternative a polo shirt,
long pants, or woman a rock till knees,
proper shoes

no slipper, no sport shoes, no shorts, no bikini, no mini
Ministry of Research, Technology and Higher Education of the Republic of Indonesia
Indonesian National BAN-PT Accreditation
Platinum II Tri Hita Karana Award in recognition of consistency of maintaining the high standards (2016)
The top ten best campus given by Bali Best Brand Award (2016)
Universitas Warmadewa
Jalan Terompong No. 24, Tanjung Bungkak Denpasar,
80235 Bali, Indonesia
P: +62 (361) 456-7890
Web
Universitas Warmadewa
UNWAR Summmary

Summer and Winter term
Bachelor and Master program
SuperB with acceptance guarantee
Related
"The modern campus of Warmadewa University is located in Renon, which is one of the nicest areas in Denpasar. Local students are genuinely interested in international students. Make new friends!"