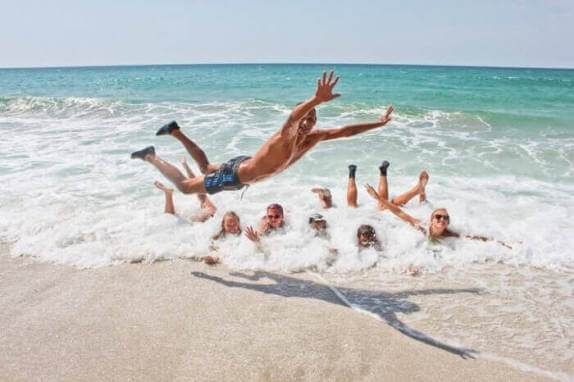 Things to do in Bali
Unique, life-changing experience meets joy.
Study
Bali activities
Cultural activities
Island hopping
There is plenty to see, and lots of interesting things to do. If you were to spend hours going around, you would have barely cratched the surface of the host of experiences it has to offer. Bali has many and diverse places of interest.
Bali offers numerous opportunities to access through unique, direct experiences. Bali is spiritual, has a well-preserved heritage as well as many objects of interest and preserved its culture since millennia. Ubud and Gianyar are villages of the arts where, for instance, the traditional Bali dance is performed. The Monkey Forest in Ubud is a nature reserve.
Relax at one the beaches, visit zoos, museums and parks. Tourist attractions are the elephant cave (Goa Gajah Bedulu) or the spiritual Klungkung and others. There are also some extreme things to do like Bungee-Jumping, Paragliding or Kite surfing. Activities on Bali mostly stand in conjunction with the sea. Swim with the dolphins, dive in the ocean and admire the color-splendid underwater world.
General
Bali is varied and offers many things to do like Diving, Golfing, Horse or Elephant Riding, Rafting, Snorkeling, Mountain Biking, Hiking and more. You can easily organize a Water Rafting rip, Sunrise Trekking tours up to the Mount's, or even a cycling tour from Mount Batur down to Ubud.
Bali Ultra
With new bars, clubs and lounges springing up all the time, it can be hard to find the best venues. Kuta is the center of Bali's night life. Seminyak has the most sophisticated nightlife with chic bars, clubs and restaurants opening every week. Full on and funky this area draws in people with creative skills such as young fashion designers and artists which has given the area lively classy nightlife.
Balis Hot Spots
Bali is a hot spot for surfers. Some of the most popular breaks can be found at Uluwatu, Bingin, Balangan and Dreamland in the south west, Kuta, Balian and Medewi are further north. Recommended surf spots are Serangan, Nusa Dua, Sanur and Keramas.
Dance in Bali
No visit to Bali would be complete without seeing some of the islands colorful traditional dances. There are dozens of different dances - all part of the fascinating Balinese cultures. This tour takes you to different villages to see these dances.
For who Bali is too small, Indonesia offer more than 17,000 islands with huge number of attractions.
The ferries go regularly to the neighboring islands of Lembongan, Lombok or the Gili Islands. Visit the 1,000 islands, Karimun or the beautiful Flores. Go shopping in Jakarta, Bandung or Surabaya. Have a look at the beauty of the country, like Sulawesi, Manadu or the world cultural heritage from Yogya. There are countless attractions.
ToDo Summary

Rich Culture
Watersport Paradise
Island Hoppinng
Related
"These study experiences are what you make of them so be sure to take advantage of every adventure even if it's something you've never done before because you may end up loving it."